Monitoring a massive sargassum mat in the Atlantic Ocean
27 May 2019

Category:

Sargassum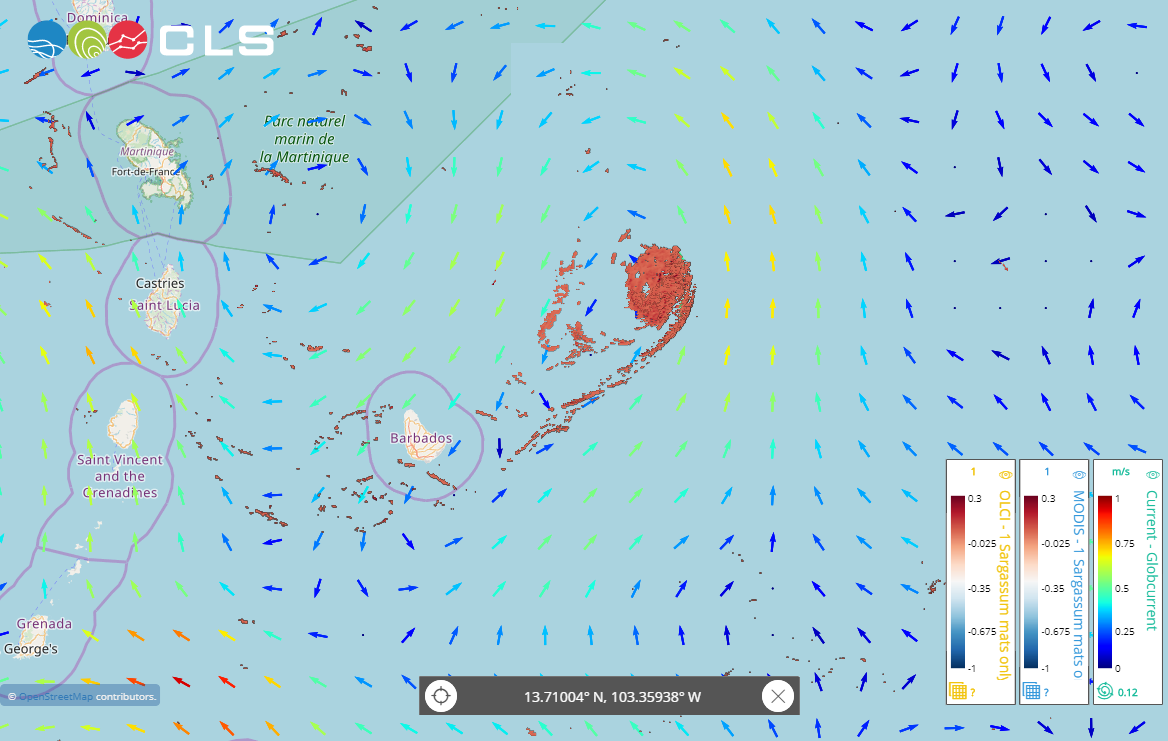 CLS has detected a massive sargassum mat using satellite sensors from European satellites Sentinel-3 and Sentinel-2 and U.S. satellites Aqua and Landsat. The sargassum mat was first detected on May 8th, in the Atlantic Ocean, 100 kilometers northeast of Barbados.  In the above screenshot, from May 18th, the 40 km-wide sargassum mat is clearly correlated to a local current eddy, and is drifting away from Barbados (more than 150 kms from the coast).
The sargassum detection and monitoring tool developed by CLS and NBE within the framework of an ESA Open Call Science for Society makes it possible to monitor this mat and forecast its drift, using current data from the Globcurrent product from Copernicus Marine Services.
Currently, this service is being tested for operations by a group of 40 users in the Gulf of Mexico and the Caribbean. For more information on how the service works, please contact: sargas-ops@groupcls.com
Image caption: Massive sargassum mat caught in an ocean eddy as seen by the CLS Group sargassum monitoring and detection service on May 18th. 
Learn more
CLS Operational Sargassum service ready for end-users
CLS and NovaBlue  Environment chosen by ESA to develop operational sargassum detection and monitoring service
About CLS
CLS, a subsidiary of the French space agency, CNES and Ifremer, is a world-recognized expert in satellite data and services. For over 30 years, our teams of researchers and engineers have been processing ocean observation data from space missions, to be used for the benefit of international projects. This data is used for various applications : forecasting climate change, monitoring accidental pollution, managing marine resources, enhancing the security and efficiency of offshore energy operations, monitoring water resources, detecting and monitoring sargassum, etc.