CLS Operational Sargassum Monitoring Service ready for end-users
26 February 2019

Category:

All, Climate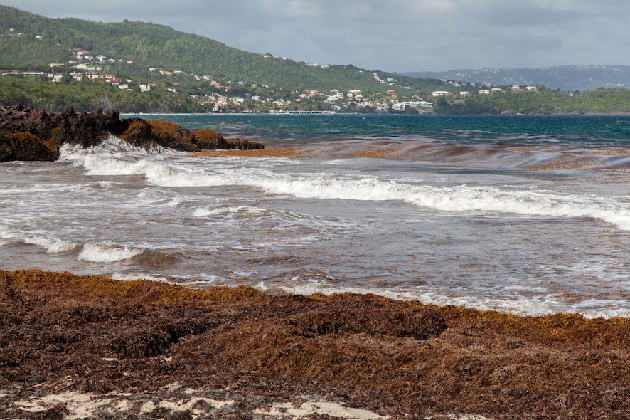 The 2019 Sargassum season is off to an early start. The first rafts arrived on the beaches of the Caribbean Islands, including Barbados, Martinique and Guadeloupe in January, announcing yet another critical season to come for the local populations impacted by the algae invasion.
Operational sargassum monitoring service
CLS and its local partner, NBE, have been working since September 2018 within the framework of an European Space Agency (ESA) Open Call project to develop an operational sargassum detection & monitoring service to respond to the needs of local users based on a unique combination of satellite-based Earth Observation (EO) and high-resolution drift modelling, delivered through a dedicated website.
End-users engagement
End-users play a central role in this project. Since September, CLS and its partner NBE, have engaged with local communities to collect their requirements for the service and develop the service accordingly.
A pool of nearly 50 end-users from several Caribbean islands and neighboring countries has been identified as the first users of this service. They will help assess the service by providing feedback during and after the two-months trial period.
This operational service will be available for local authorities, the hotel and tourism industries, fisheries, and other interested users just in the nick of time, as local authorities prepare for another busy Sargassum season.
Screenshot captions:
Figure 1: Overview of the Sargassum situation in the Atlantic Ocean based on the 7-day average of Sargassum detection by Europe's Sentinel-3 (OLCI) and NOAA Aqua (MODIS) satellites. Image contains modified Copernicus Sentinel-3 data 2019.
Figure 2: Very high-resolution (20 m/pixel) sargassum detection in coastal areas with Sentinel-2 satellite data. Image contains modified Copernicus Sentinel-2 data 2019.
Figure 3: High resolution (300m/pixel) sargassum detection plotted on a map (Sentinel-3 data). Image contains modified Copernicus Sentinel-3 data 2019.
Top of article, photo credit: Jean-Philippe Maréchal