CLS, world recognized expert in satellite data and services
CLS, a subsidiary of the French Space Agency (CNES) and CNP, is a worldwide company and pioneer provider of monitoring and surveillance solutions for the Earth since 1986. Its mission is to deploy innovative satellite-based monitoring solutions to understand and protect our planet, and to manage its resources sustainably. CLS employs 900+ people, at its headquarters in Toulouse (France) and in its 30 offices around the world.
CLS processes environmental data and positions from over 100,000+ beacons each month, as well as ocean and inland waters observations. CLS uses over 80 satellite instruments on a daily basis, to provide a large variety of value-added services to institutes, governments, agencies, companies, NGOs, european agencies, etc.
Products & Services Portfolio
As exclusive provider of Argos location and environmental data collection services for scientific and environmental applications, CLS provides data to scientists (biologists, oceanographers, climatologists) around the world to help them study and protect the planet. The data from thousands of CLS transmitters fitted on animals, oceanographic buoys, and submarine floats has provided vital information about the state of the planet's health.
For over 30 years, our teams of researchers and engineers have been processing ocean observation data from space missions, to be used for the benefit of international projects. CLS's data processing centre delivers its bulletins worldwide around the clock, 365 days a year.
This data is used for various applications : forecasting climate change, monitoring accidental pollution, managing marine resources, enhancing the security and efficiency of offshore energy operations, monitoring water resources, etc.
CLS has been operating satellite systems and providing high value-added products and services since 1986.
30 years of satellite-based data collection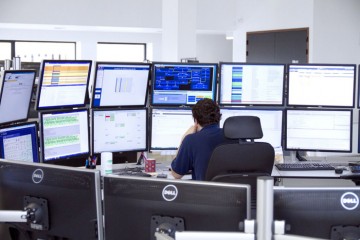 An unrivalled database: CLS operates 40 satellite systems which carry almost 80 instruments used on a daily basis for environmental surveillance, the sustainable management of marine resources and maritime safety.
A large panel of partners
Since 1986, CLS serves a broad range of customers: governments, scientific organizations, non-governmental organizations, institutions, large industrial groups (maritime freight, oil and gas companies, commercial shipping, fisheries, etc).