CLS drift model predicts sargassum landing in Dominican Republic
27 May 2019

Category:

Sargassum

A sargassum landing was reported off the Malecón area of Santo Domingo in the Dominican Republic on May 17th. This landing, which began several days prior, was predicted by CLS's drift model, developed within the framework of an ESA Open Call science for Society project. Within this project, CLS and partner NBE have developed an operational sargassum detection and monitoring service.
Between May 12th and May 16th, heavy cloud cover over the Dominican Republic made it impossible to see sargassum with the onboard satellite sensors. But with the last satellite detection on May 12th, users could simulate the drift of these sargassum mats to predict landings two days later, starting on May 14th.
Sargassum drift forecast for the Dominican Republic
This drift forecast (see below) was run using the sargassum detection data from May 12th. The black dots are the original position of sargassum as seen by the optical sensors onboard satellites. The white lines are the forecasted drift. The red dots are sargassum that landed on the 14th, the yellow dots represent sargassum that are still at sea on May 14th. The white squares indicate areas of high probability of sargassum presence.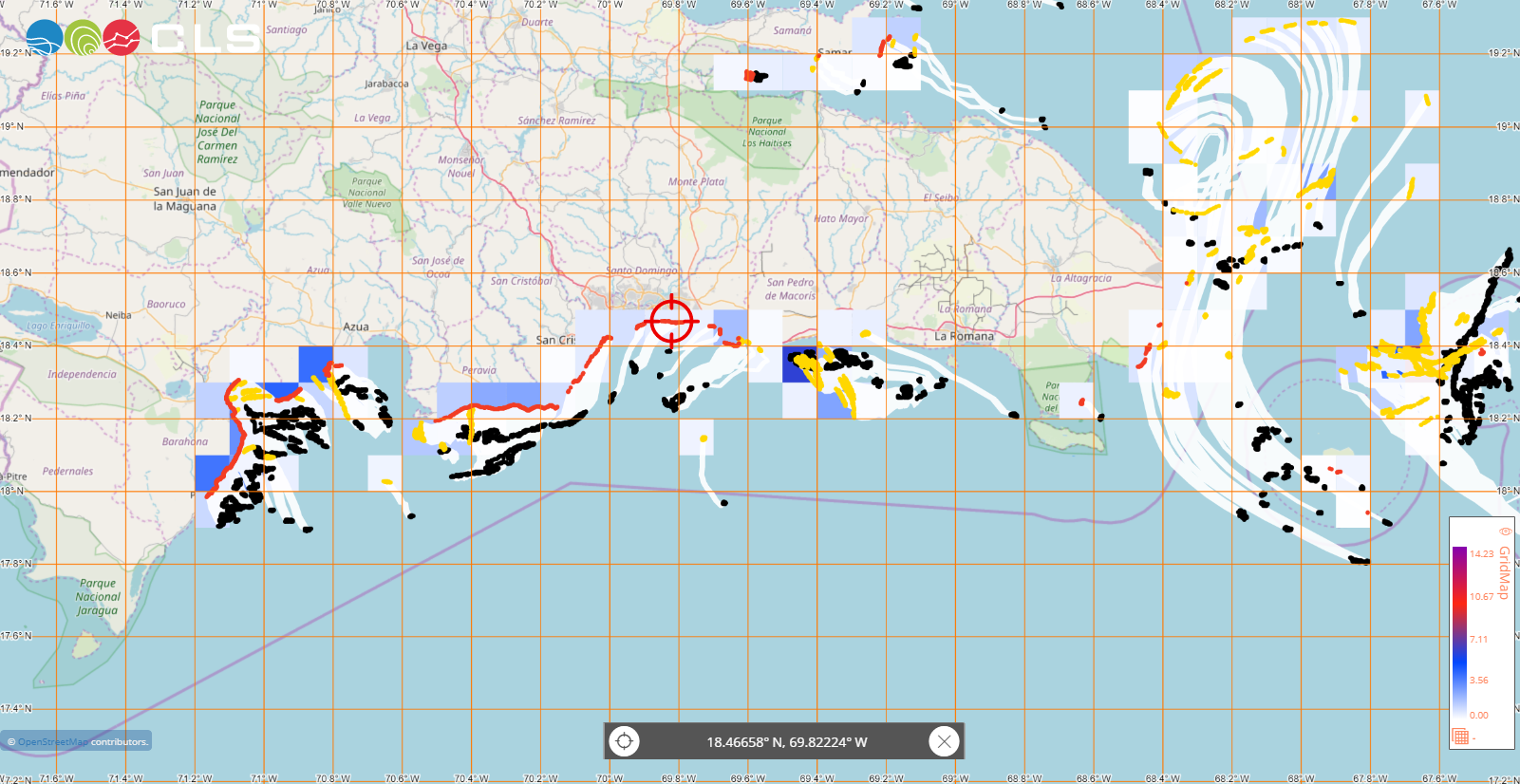 This sargassum detection and drift model tool is currently open to a group of 40 users in the Gulf of Mexico and the Caribbean. For more information on the service please contact sargas-ops@groupcls.com
Learn more
CLS Operational Sargassum service ready for end-users
CLS and NovaBlue  Environment chosen by ESA to develop operational sargassum detection and monitoring service
ESA explains the CLS sargassum monitoring and detection service
About CLS
CLS, a subsidiary of the French space agency, CNES and Ifremer, is a world-recognized expert in satellite data and services. For over 30 years, our teams of researchers and engineers have been processing ocean observation data from space missions, to be used for the benefit of international projects. This data is used for various applications : forecasting climate change, monitoring accidental pollution, managing marine resources, enhancing the security and efficiency of offshore energy operations, monitoring water resources, detecting and monitoring sargassum, etc.
Confirmation from local weather services
➡ Gran cantidad de sargazo afecta a
buena parte del Malecón de Santo Domingo/República Dominicana.
Hace varios días que las algas han invadido el litoral.
Vía: @JeanSuriel 16/MAY pic.twitter.com/we3MY5ze9D

— EST PLUV ALTAMIRA Cs (@pluvaltamira) 16 mai 2019