Celebrating 25 years of high quality, multi-mission altimetry Sea Level products
3 September 2019

Category:

Altimetry, Events
In 1997 the first homogeneous and user friendly Sea Level data set based on TP and ERS1 & 2 missions were released to the scientific community. From this date, it was no longer necessary anymore to be an altimetry expert to use sea level time series. This was the beginning of DUACS (Data Unification and Altimeter Combination System), a long and sucessful story. All the altimeter missions from international Space Agencies have been successively integrated in the system as soon as the data have been made available and assessed: GFO, Jason-1, Envisat, Jason-2, Cryosat-2, HY2A, Altika, Jason-3 and Sentinel-3A & B. CLS will present the DUACS system at OceanObs '19, in Hawaii, from September 16th-20th.
Serving the needs of ocean and climate studies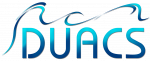 The DUACS system produces, as part of the CNES/SALP project, and the Copernicus Marine Environment and Monitoring Service, high quality multi-mission altimetry Sea Level products for oceanographic applications, climate forecasting centers, geophysics and biology communities… These products consist in directly usable and easy to manipulate Level 3 (along-track cross-calibrated SLA) and Level 4 products (multiple sensors merged as maps or time series) and are available in global and regional version (Mediterranean Sea, Arctic, European Shelves …).
A continuously improving system
As the knowledge of altimetry processing has been refined and as the oceanography needs has evolved the system has continuously been upgraded to increase the production frequency and to improve the resolution of the products and their accuracy.
70 years of cumulated data for climate record
In 2018, a 25 year of altimetry, representing a total of about 70 years of cumulated data, will be released in the DUACS DT-2018 version. Beside the operational products, the development of the new generation of DUACS product has started. Using new processing will allow us to fully exploit the fine-scale content of the altimetric missions and propose high resolution products.
DUACS @ OceanObs 2019
CLS will be at OceanObs 2019 to present the DUACS system during a poster session. The objective of the poster is to synthesize of the major achievement of DUACS multi-mission products throughout the past 20 years and express the challenges of the coming years.